Read about the achievements of our students, past and present. Future Skills students are of all ages, and come from a range of backgrounds – showing you that anything is possible!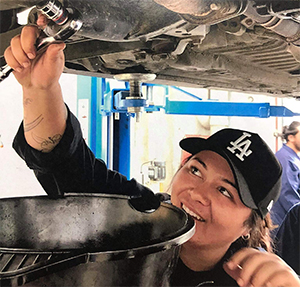 Fiona Barrett - One step closer to achieving her dreams
Our recent Automotive Engineering graduate, Fiona Barrett, is one step closer to her dream of starting a workshop run by females.
Fiona always had a passion for anything 'motor'. Growing up, she would work with her father fixing vehicles, boats, and even lawnmowers.
Once a stay-at-home mother, it was not until her daughter's 5th birthday that she realised her true calling – "to become a grease monkey" as everyone in her family once predicted she would be.
Upon asking what led her to enrol at Future Skills, she replies that it was the warm family-orientated environment.
"Being a part of such a family orientated environment was something worth waking to every morning for 26 weeks," she says.
Fiona loved the balance between theory and practical that the course involved, from learning the basics of theory to working hands-on assembling and disassembling engines.
In her words, it involved "a lot of effort, concentration, and enjoyment".
While Fiona is thankful to the entire team at Future Skills for making her learning journey a memorable one, she particularly mentions her tutor, Joe Alo who she says is absolutely amazing.
"His encouragement and knowledge in the field of automotive made it a lot easier to learn." she says.
For all new and prospective students, Fiona has a piece of advice: "Do not think. Do it. You will find even when you've completed your course you will not want to leave."
Fiona is due to start her apprenticeship in April which will help her become a fully qualified mechanic. We wish her all the best in her future endeavours.



Beaudein Hopihana - Giving life a new direction
Once a stay-at-home mum, Beaudein Hopihana enrolled to study Health and Wellbeing at Future Skills to give her life a new direction.
Beaudein is currently studying Health and Wellbeing (Level 2) at our Manukau campus. Beaudein educational journey up until she enrolled at Future Skills was an unstable one.
"By the time I was 15 years old, I had been to 14 different schools – across New Zealand and Australia", said Beaudein.
Beaudein challenges wasn't limited to education alone. She went through a lot in her personal life as well, including becoming a teen mum at 16.
"I experienced things in life that a lot of people my age at the time, had not yet experienced. I essentially had to grow up quickly", said Beaudein.
For two years, Beaudein was a stay-at-home mum. She worked at the airport and McDonalds before resuming her educational pursuits.
Upon asking what led her to resume her studies, she said "I had so much potential, but I lacked experience and qualification".
Beaudein had long realised that to achieve her dream of being successful in life, she had to start by educating herself and hence took up the course at Future Skills.
"I wanted to show my son that just because you go through hard times doesn't mean that is what life is. In fact, life is actually what you make of it. You can always get back and break the cycle", said Beaudein.
Beaudein has been extremely satisfied with her experience of studying here at Future Skills. Despite being a newcomer in the Health sector, the course has widened her learning and understanding within the sector.
"I have learnt so much about how to support the elderly – in terms of understanding their emotions and how to navigate around patients", said Beaudein.
For Beaudein, the best part of studying at Future Skills was the welcoming environment and the warmth shown by tutors and support staff.
"In particular, I would like to mention my tutor, Nazra who has been my backbone during my study period. She has always been there to help me with my work – even outside class hours. She's very flexible and understanding and I'm grateful to have her as a tutor", said Beaduein.
"I would also like to mention pastoral care support staff, Fola, who has always been there for all of us and ever-willing to help with issues beyond academic studies", she adds.
For Beaudein, coming to campus feels like coming to a family. She feels safe and comfortable being by herself here.
"People here are helpful and loving and its very whanau-orientated. There is so much of respect and aroha for everyone", said Beaudein.
She has a message for anyone who wishes to study at Future Skills – "It's good to pursue your studies here – this place will help you make it to the top"
Beaudein plans to be a Level 4 Support Worker and is willing to work hard and gain the qualifications and experience required for the same. We wish her all the best in her endeavours.



Rina Aries Kopu - Shows age is just a number when it comes to education
Rina, who is originally from the Cook Islands, is a recent graduate of our Mental Health and Addiction Support Level 4 programme.
She comes from a busy household which includes her five children, 20 grandchildren and one great-grandchild. Despite being a great-grandmother, Rina has shown that age is just a number when it comes to education.
Rina has lived experience with mental health issues – having suffered depression, anxiety and PTSD as well as alcohol and gambling addictions.
Before taking up this programme, Rina undertook several other courses including Peer Employment Training (PET), Wellness Recovery Action Plan (WRAP) and ABACUS.
"With all the workshops I have done, I found my passion is to support our people in the communities through mental health and addiction and so on," she said.
Upon finding her true calling, she enrolled at Future Skills to study Mental Health and Addiction Support to follow her passion.
During the programme she learned the theoretical and practical aspects of becoming a support worker. The programme also taught her about the Treaty of Waitangi, the three P's principles of the Treaty - Partnership, Participation and Protection for all Maoris and non-Maoris, Te Whare Tapa Wha and wellbeing, cultural diversity and more.
Rina had a great time while at Future Skills and is thankful for all the support she received during her journey – not just academic support but also financial and IT support.
The school also helped her meet new people and make new friends. She said her tutor Sarai deserves special mention. Sarai always encouraged Rina to be strong and do what she did best.
Rina works as a Consumer Rep for DRIVE Consumer Direction Counties Manukau, which provides a voice for people with mental health and addiction issues. In addition, she volunteers with the HEART Foundation as a Programme Team Support Person. She is also the Tenancy Advisory Representative for Compass Housing.
Rina plans to support communities and be a strong voice for many in the future. But her real passion lies in working for the suicide support groups strand. We wish her all the best for her endeavours.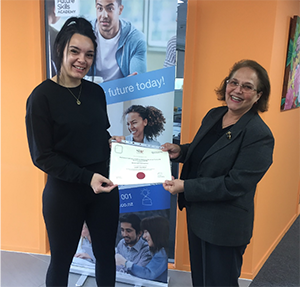 Judith Milani - Making her mark as a Mental Health Support Worker

Graduate Judith Milani is making her mark as a Mental Health Support Worker at Auckland City Mission - Detox Centre Avondale.
Judith Milani is a graduate of our Health and Wellbeing (Mental Health & Addiction Support) (Level 4) course from our Royal Oak campus.
Judith has spent much of her life in Auckland. She previously did a young mums programme before finally deciding to make her career in the field of Health.
Upon asking what led her to pursue a course at Future Skills, she said, "I met a friend who referred me to enrol in this course here. She share a positive feedback and I was happy to experience it myself".
Judith describes her experience of studying at Future Skills as an enriching one.
For her, the best part of studying at Future Skills was the opportunity to increase her knowledge, build relationships and enjoy the cultural diversity in the campus.
She is thankful to the entire team of Future Skills including the tutors, support staff and her co-learners for their constant support.
"In particular, I'd like to mention my tutor Michele Henderson, who was really helpful. She was always relaxed and easier to communicate with and helped me understand the programme", said Judith.
Judith further opens up about her experience of studying here and has a message for everyone who is thinking about enrolling at Future Skills.
"I was very nervous when I first enrolled. But I have to say for anyone who is looking to enrol - Put all the nervousness aside and go ahead and enrol – You will not regret this", said Judith.
As a part of the course, Judith had done her practicum at Detox Centre Avondale. She now works there on a casual basis.
The programme helped her prepare for her work.
"I am using the knowledge and skills gained from my studies at Future Skills to my current role" The experience has been very rewarding and I must say, the course has not only opened up my learning but new doors for me", said Judith.
We wish Judith all the best in her career.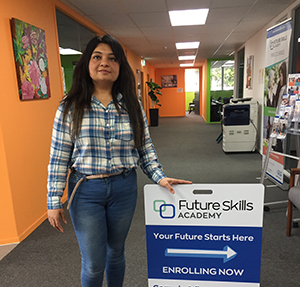 Dharshana Mehta - Giving back to the community

Dharshana Mehta enrolled in our Mental Health and Addiction Level 4 course to give back to the community.

Dharshana worked as a Senior Security Officer in a hospital in Auckland for seven years before enrolling in the course. With a background in psychology, Dharshana says she enrolled in the course as she wanted to get into the industry.
"I wanted to give something back to the community," she says.
Dharshana understands the value that a Mental Health and Addiction support worker can add to the community.
"Helping people suffering from mental health improves their quality of life and makes them strong as individuals. They become independent and are able to support themselves," she says.
Dharshana has recently graduated from the course. She says she found her experience studying at Future Skills extremely humbling and gratifying. What she liked most during her time was the friendly environment.
"It feels like you belong to one big family. The friendly environment not only helps in achieving the best academically, but also assists in personal growth. The place has a positive vibe that is beneficial for students".
Dharshana speaks highly of her tutor, Dushmanta, who pushed her to keep going and encouraged her to study well.
"He is a good teacher – extremely intelligent and knowledgeable with a lot of experience," she says.
The qualification has motivated Dharshana to study further and realise her dream of becoming a counsellor.
"I will pursue further education so as to fulfil my dream to become a counsellor," she says.
We wish her all the best in her future endeavours.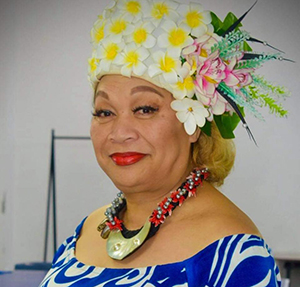 Abigail Haurua - Backing experience with a qualification
Abigail Haurua came to Future Skills to gain a qualification which would back up her experience working in the mental health sector.
Abigail is a current student of our Mental Health and Addiction Level 4 course.
Abigail is a qualified radio broadcaster as well as a Mental Health Specialist Consultant. She has previously been working in Tangata Whaiora in Australia, caring for vulnerable adults who had psychological issues and preparing them for employment.
Though Abigail had experience working in the field of mental health, she lacked a qualification to back up her experience.
Upon asking what led her to pursue the course, she says: "I decided to come to Future Skills when I saw they were offering MH L4 for free under TTAF."
Abigail describes her experience of studying at Future Skills as an enriching one.
"We had a lot of discussions of life experiences and also learning about the Whaiora from a Maori view. This included the Te Tiriti o Waitangi and the three P's – Partnership, Protection and Participation. It also aligned with Whaiora in the working environment." she says.
For Abigail, the best part of studying at Future Skills was the opportunity to increase her knowledge, build relationships and understand and appreciate cultural diversity.
"My time at Future Skills taught me to accept people for who they are at all levels and backgrounds" she says.
She is thankful to the entire team at Future Skills - the tutors, the support staff, the management team and the student council representatives for their constant support.
She mentions her tutor, Sarai Tufala, in particular whom she says "always makes time available for all students".
As a graduate, Abigail will take with her not only the knowledge she received from studying but happy memories as well.

She has a message for everyone who wishes to study at Future Skills:, "Come with an open learning mind - there is a lot of aroha here at Future Skills".
Abigail aims to study further and pursue a master's degree in the field of Mental Health. We wish her all the best for her future endeavours.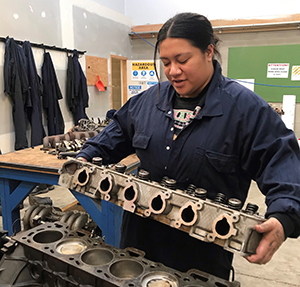 Christina Lolomaiaya - Challenging up the odds!
Our recent Automotive Engineering graduate Christina Lolomaiaya challenged herself within an industry that is mostly male-dominated.
Christina previously studied Social Work at the University of Auckland, buttook a break to find her real passion.
"I decided to study Automotive Engineering because I saw very few females working in that industry, so I decided to challenge myself with a more hands-on career option," she says.
Christina recalls that ever since she was a child, she would get excited while driving past car shows on Sundays. Studying Automotive Engineering was like re-discovering her childhood passion.
Christina only had a basic knowledge of cars when she first started.

"My tutor Joe Alo was extremely helpful and guided me well to complete my course. He pushed me out of my comfort zone, constantly reminding me that being shy in a career that is hands-on is not an option – engaging with people is a must," she says.
Christina describes what a day would typically look like while studying at Future Skills.
"You would either find me in the main workshop where we practice general service on vehicles, in the engine room reassembling or disassembling an engine or in the student lunch area with my classmates bonding over a cup of coffee or Milo," she says
"By the time it was lunch break, my hands would always be covered in grease and dirt which is exactly how a hands-on trade career and study should be," she says.
Christina feels grateful to everyone at Future Skills who helped her in her journey from being a student to now an alumni.
"I feel grateful to the staff who helped me since my first day, grateful for my tutor Joe for preparing me for what to expect out in the automotive industry and my classmates for being good mates and helping me out whenever I was stuck," she says.
The course was a great starting point for Christina who is currently studying a Level 3 Automotive course at MIT.
"Starting at Future Skills for automotive is one of the reasons why I'm excelling right now at MIT. FS automotive was a great starting point for me and I'm so thankful I studied there first," she says.
"Had it not been for Future Skills, I would not have been this passionate, driven, motivated and knowledgeable about my career options. The staff, the tutors, the people and the activities made my study worth it," she says.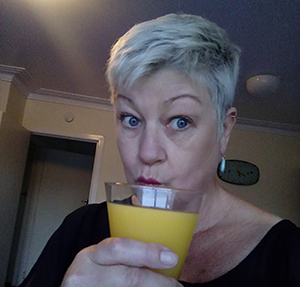 Kim Oortgiesen - Moving up the ladder!
Former salon owner, Kim Oortgiesen, enrolled to study Health and Wellbeing at Future Skills for a new challenge.
Kim is currently studying Health and Wellbeing (Mental Health and Addictions) (Level 4) at our Manukau campus. Prior to that she studied Health and Wellbeing (Level 2) at our Royal Oak campus. She loved the experience so much so she decided to further her studies.
Kim has lived in Auckland for most of her life and spent brief periods in Taupo and Blenheim. Once an entrepreneur, Kim owned a salon which she ran for a decade before changing her career path.

"I wanted to try something new and challenging and needed a career change. This was why I decided to return to study," she says.
When asked what she loves most about studying here, she instantly replies "I love everything about Future Skills. It provides a calm, stress-free environment where you learn and develop your skills and also enhance your knowledge."
"The small class size makes it very interactive and the one-on-one attention made me engage more. I was quickly able to adjust to the teaching and learning environment," she says.
Kim is thankful to all the tutors and support staff who have been very approachable and helpful and provided a friendly environment at all times.
"In particular, I would like to mention Maria who helped me achieve my Level 2 Certificate in Health & Wellbeing and Dushmanta, my current teacher for Mental Health and Addictions. I would also like to thank Sima and LeeAnne who are outstanding in their manner and approach and have a true passion for what they do," she adds.
For Kim, coming to the campus always feels like coming to a family - one that cares for each other and is always there for each other.
"You will not only enhance your learning skills, but also your social skills here," she says.
While Kim says achieving Health and Wellbeing Level 2 certificate was one of her greatest achievements, she is looking forward to successfully completing her Health & Wellbeing Mental Health and Addictions Level 4 programme. But that is not all for this young woman as she is motivated to pursue higher learning and soar to greater heights.
We, at Future Skills, are pleased to have had the opportunity to rekindle a passion forlearning in Kim and wish her good luck for her future endeavours.




Angeline Narain – Giving life a new direction!
Angeline is a current student of our school, studying Early Childhood Education at our Manukau campus. Despite playing multiple roles in her personal life – as a daughter, wife and mother, her single biggest motivation to go back to school was "I wanted to do something with my life".
Angeline worked as a courier driver, prior to studying. It was while delivering couriers to our school, that she found out about our courses and teaching facility.
Angeline loves children and always thought to do something meaningful with her life. Her family was extremely supportive of her decision and motivated her to pursue a career in teaching.
Going back to school and studying again was unnerving initially for Angeline but she is thankful to her teacher Leslie, who has been helping her a lot. She says, "I am enjoying the ride so far. I am trying to improvise and it is fun having Leslie by my side. I want to study well and start work to get to where I want to go, even if it means studying further".
Angeline is one of the members of the Student Council in Manukau and is also an active participant in all events and activities around the campus. For the recently held St Patrick's Day celebration, Angeline gleefully exclaims "The campus gives us an opportunity to step out and do something that we don't usually do in our lifestyle. We learn so much about different cultures, traditions and different celebrations".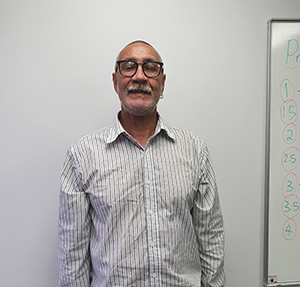 Patrick McManus - Breathing new life into self!
Patrick McManus is a soon-to-be graduate student from our Mental Health and Addictions L4 course. Once struggling with addiction, Patrick has today found a new meaning in his life. He says "Future Skills gave me a new pathway, a new direction in my life".
Patrick was at RI International when his friend told him about MHL4 course at Future Skills. He thought of giving it a shot and enrolled himself for the course. The fact that it was fees-free made it easy for him to make the decision. He says, "If it wasn't for fees free, I still would be at a loss. If I had to pay, I could have never started the course, forget completing it".
Patrick had left his studies in the year 1992. He remembers, "I was never good at school. Always too heavy on drugs and alcohol." The thought of going back to the classroom and studying again as a student after a gap of 27 years was daunting initially, but he says "after I came here, I said to myself let's do this."
The course not only sparked his interest in formal education but also reunited him with his passion for learning. He feels grateful that Future Skills gave him an opportunity to come out of his selfish self that addiction had led him to become, and value life, relationships and help other people. He enjoyed the opportunity to meet new people, make friends, learn about different cultures, and so on. He is also thankful to his peers who helped him all through the course. For his teacher, he says "Warren is perfect. He is a helpful man. I wouldn't have been able to graduate without him".
Patrick says that while the theoretical part of the course helped him understand the basics, it was the 355 hours of training for the practicum that gave him the opportunity to practice it first-hand. "I loved the fact that I was supporting addicts. The practicum gave me an opportunity to network – as I met so many people in the court system, housing system, drug, and alcohol system. I loved every second of it".
After graduating, Patrick aims at starting work immediately. He talks of his future plans and says "I will work for a year, payback my practicum bosses with my work in return for the free training they gave me, and then I might go back to school to complete a Level 7 or even a Level 9 course. I don't want to stop here. I want to get as far as I can."
Future Skills has rekindled his appetite to learn and grow. It has changed him forever and for good – In his words "I can't think of anything better to do than MHL4 because in my addiction, I was selfish. It was all about me, me, and me - I want to drink now and dope now. But now, I want to help others. I, no longer, drink or dope."
He has truly revived his life for a new beginning and we at Future Skills, couldn't be any prouder. We wish him all the best in his future endeavours.



Sikander Hirani - Upskilling to reach greater heights
Sikandar Hirani enrolled in the New Zealand Diploma in Construction (Quantity Surveying) to gain technical knowledge and grow professionally.
He works for Auckland Council as a Regulatory Support Officer, processing building consents for the southern region.
"I always wanted to specialise in a given field. After joining Council, I realised my passion and strength lies in residential and commercial building," he says.
Sikandar is one of a group of domestic students studying construction alongside internationals at our city campus, Otago Polytechnic's Auckland International Campus in partnership with Future Skills Academy.
He says he enrolled in the programme to gain technical knowledge of construction process and management, and to gain a recognised qualification.
"The combination of theoretical study from class and applying those concepts and principles in my current role is assisting me in developing an understanding of the wider consenting functions."
Sikandar says construction qualifications are in huge demand throughout New Zealand and across the world with an average salary high compared to other industries.
He's enjoying the programme, which he's currently studying online due to COVID-19 restrictions. That's working well as he likes being digitally connected with classmates through online learning activities.
Sikandar recommends the programme to both domestic and international students.
He says lecturers are experienced and both academic and support staff take a genuine interest in student wellbeing and implement feedback from students.
"Anyone who is already in the construction industry or has a passion and desire to learn about the practices should enrol," he says.
It's also suitable for those with an engineering background and high school graduates with building mindsets.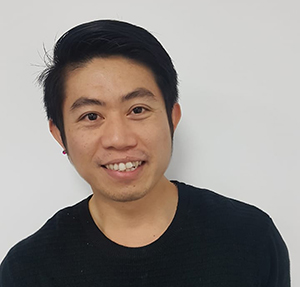 Itthipat Khechonsat - Second home, second innings!
Itthipat Khechonsat is a current student at Future Skills Royal Oak branch, studying Health & Wellbeing Caregiving Level 3 course.
Originally from Thailand, Itthipat has been living in New Zealand for more than a decade now. He first came to the country in 2010. Before taking up this course, Itthipat worked as a house attendant in a hotel. Though he was happy with his work, he says "I wanted more from life".
Itthipat loves taking care of people, especially elderly people. It was while caring for his partner who was undergoing an operation in Auckland hospital, that Itthipat realised his real calling.

"I saw the nurses and support workers working round the clock, taking care of people. They were doing a great job and patients were happy. I, too, wanted to do something similar - care for fellow human beings and make them happy", he says.
The experience at the hospital inspired him to change the course of his life.

"I was looking for a new opportunity when I first saw this course in Caregiving. Almost instantly, I knew this was what I wanted to do. The fact that it was free helped me make a quick decision", he says.
Itthipat loves coming to school every day.

"It feels like a second home to me. The school has opened new avenues for me – learning about new cultures, getting new experiences, making new friends, and learning new things", he says

He is thankful to his tutor, Maria who helped him all through.

"Maria is great and extremely helpful. She holds the class together, despite students coming in from different backgrounds. She understands different cultures and is considerate and kind", he says
After completing this course, Itthipat aims at starting work immediately.

"I would love to join an organisation wherein I can put my study into practice and show my passion to care for people. I think it is very important to study. People do not realise the benefit of education. They are stuck at home. They need to come out and study again to give new meaning to life", he says.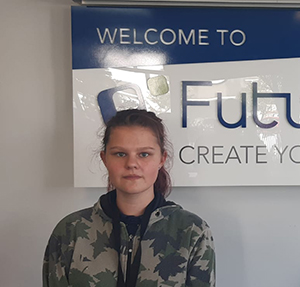 Caela Harris Winters – Starting early in life!
Caela is a recent ECE graduate from our Manukau campus. At 17, she is the youngest graduate for the programme in the current batch.
Caela dropped out of school when she was 15.

"School wasn't right for me. I wanted to do something I'm interested in", she says.

While most don't realise their true calling until they are old enough, Caela realised her passion for teaching young children early on in her life.
As opposed to going to school, Caela loved coming to campus every day.

"I was interested in coming as it had the field of study I was truly interested in", she says.

She enjoyed the fact that the course gave students a practical, hands-on learning environment to enhance their knowledge and skills, rather than focussing on theoretical learning only.
A bright and talented student, Caela actively contributed as a member of the Student Council. She was involved in all activities that occurred on campus.

"I enjoyed being a part of the extra-curricular activities, such as decorating for Halloween and Christmas, shared lunches, monthly events and get-togethers", she says.
Caela feels grateful that Future Skills gave her an opportunity to follow her dreams early on her life.

"Future Skills is a great starting point of study. The staff is extremely helpful and friendly and help you settle down and get involved to be a part of the whanau. Special words of appreciation for my teacher Lesley who helped me a lot throughout the course of my study", she says.
Caela says that Future Skills has laid the foundation on which she can now build her career.

"Starting at Level 2 ECE gave me the insight as to what to prepare for in my future levels of study", she says.

She plans to take up further studies that would help her get the dream job that she is aspiring for. We wish her all the best for her future.


Wendy - Taking her passion forward
Recently, we caught up with Wendy who is studying her National Certificate in Mental Health & Addiction Support at Future Skills. She shares her story with us.
'This year I made a decision to follow a career in supporting people who experience mental health issues. I have always had a passion for helping others and knew achieving a certificate in study would further my employment opportunities.
After researching my options online of where to study and what I could afford, I decided on Future Skills in Wiri, Manukau.
The application process was simple and before I knew it I was attending my first class. I am now well on my way to achieving a National Certificate in 'Mental Health and Addiction Support Level 4.
I am a middle-aged adult and have found the introduction and pathway back into study both casual and rewarding. I feel this is emphasised by having such an approachable tutor. Kailash is always willing to assist me in any way if I am having difficulties. He is very positive and contributes to my willingness to increase my knowledge at a comfortable rate, suitable to me and my life style. My class is full of other adult learners who are a great support and together we are all achieving our study goals.
At Future Skills, I have been able to fulfil my dream of working in Mental Health as I recently applied for and was accepted into the role of a Support Worker. I am now able to comfortably continue my study, work part-time in my chosen field while still maintaining a desirable balance with my family and friends.'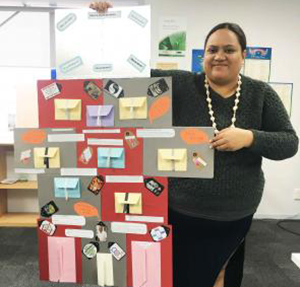 Antonielle Wallace - A Love for helping others

Returnign to study as an adult student was a huge undertaking for Antonielle who is a mother of four kids. However, her passion for helping others and making a difference in the community has helped her find the balance. She recently shared her story with us.
"Kia ora my name is Antonielle Wallace. I am a mother of four but a parent of five. My lifestyle since becoming a mother has always been about the love and support of my family and the work that I do as a Youth worker. I have always had an urge to support others and to upskill and better understand the work I that do for the future of our young people. As a Youth worker I have taken this opportunity to reach beyond what I have already achieved and set new goals and new heights for myself.
I am now a student once again after nearly 3 years of being a Kiwi Can Leader and delivering lessons of life values to 5 -12 year olds in in primary and intermediate schools. This was a great opportunity to see our young ones in their element. I have also continued to work with an amazing organisation Youthtown, who have played a huge part in my life and the future that I am working towards to become a Youth Counsellor in Addictions.
I am now studying at Future Skills, in the most amazing and welcoming class ever, Mental Health and Addictions Support Level 4. This class has been great and made me feel welcomed and supported not just by our peers but our supportive tutor Kailash Devan. He has been encouraging and always has time to go over anything you may not understand. I am a people person so communication is great for me. We have plenty of laughs and study in a relaxed atmosphere where everyone has different backgrounds and hail from all over Auckland. We have become a family in our class and we are always connecting with new students who become part of our class and Future Skills.
I am looking forward to completing my course in December but will also miss coming into class and seeing my classmates and catching up with Kailash, our awesome tutor, who greets us with a smile every morning and sometimes a coffee in hand during those cold mornings. This is a great environment for everyone that wants to get back into study without all the negative vibes and the overwhelming thoughts and feelings of 'I can't do this'.
My class project is on 'Schizophrenia'. I will do a presentation on what we are learning to understand and how we support those going through mental health problems.
I have always had an interest in how I can make a difference and where I am needed most, so going through this topic I have learnt a lot and I am able to find information that I once wasn't able to find. I hope with my visual and interactive presentation I can also help others that are in my class to better understand what was once an assumption for many; and now factual and correct information."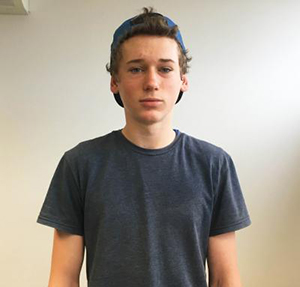 Mikael Taylor - Catching up with Mikael
Welding graduate Mikael Taylor found that school wasn't working for him, so he decided to make a career out of welding. He has successfully completed the National Certificate in Welding (Level 3) course. Recently, we had the chance to catch up with him and ask a few questions.
Why did you choose future skills?
I was looking to leave school as I wasn't doing very well and that's when my dad saw an ad in the local newspaper. I had a look at the course options and welding caught my eye. I had been doing a bit of welding here and there so I thought I'd choose that as a career.
Where are you working now?
I am currently at M&H Contractors but I'm hoping to get a full time job with Waste Management or another company.
What were the best things about your course?
The best things were learning new welding methods and processes. I particularly enjoyed plasma cutting and oxy-fuel cutting.
What can you tell me about some of the people you've met at Future skills?
Everyone is friendly, outgoing and helpful. We all get along well.
What would you say to someone looking to study at Future Skills?
To all the kids out there who are stressing out over exams and wondering if they are going to pass or fail. If they will have enough credits or if school is worth it? For some people school is worth it but for me it wasn't. I was in trouble almost every day - getting calls home, detentions etc.
If you think school isn't for you or you get in trouble constantly, find a course that you're interested in and want a career in and tell your parents. If there is anything at Future Skills that interests you, give it a go. It is a nice environment to study in and the tutors are very friendly.
I left school and now I have my level 3 qualification in welding and will hopefully have my 2980 certification soon (certifies me to weld up to 24mm steel). Doing this course has helped me take my skills to the next level and helped me acquire knowledge in welding, gas cutting, and plasma cutting.
How has future skills helped you prepare for your next step?
It has given me more knowledge and now that I have qualifications, it's going to make getting a job easier.
Jacinta - The sky is the limit
My journey of studying Mental Health and Addiction at Future Skills in Manukau has been an exciting and welcoming experience.
As someone who is introverted and prefers self-learning, I took a chance to learn in a class environment. The class itself is a family orientated surrounding which was just perfect for me. The support of my tutor and staff at Future Skills has been overwhelmingly caring and friendly.
I have developed self-confidence, communication skills, and interaction skills with others during this course. The support of my classmates has given me confidence to have self-assertiveness and a self-reliance approach to my surroundings.
As a visually impaired learner, the support of my tutor, other staff and students has enabled me to achieve my qualification. Everything I needed was provided in terms of building accessibility and electronically available reading materials and assessments.
Being in an environment that was comfortable and relaxing also made learning for me fun and exciting. The Mental Health and Addiction Support programme has given me a broad understanding of different mental illness and addiction issues. It has also given me a comprehensive understanding of disability and elderly support care and its influence in individual's well-being and quality of life.
The essential skills I have learned throughout this course has given me more familiarity and an insight of working in an organisation that provides support for mental health, disabilities, and the elderly support service catering for Pacific Islanders, which is where I have completed my work placement.
I have enjoyed my time learning and meeting new people within this course and also the work placement that I have been placed in.
My next goal is to gain employment within the mental health or disability sector - to be of support and to promote awareness within the Pacific community about Mental Health and Disabilities.
I would also like to study further with a diploma in health and human behaviour to expand my knowledge and understanding of human behaviour and its impact within an individual environment and how it may influence others.'
Want to see how Future Skills can help you? Call Student Services on 0800 888 001 for more information or visit www.futureskills.co.nz or their campus at 15 Earl Richardson Ave, Manukau.
Email from Jacinta to her tutor Kailash Devan
"I just want to thank you so much for your help and support throughout the year. It's been the best ride of my life. Thank you for the kind soul you are. I know if it were someone else I may have quit a long time ago. Thank you for your support and always making me feel at home. You are truly the best!!"